Incoming First-Year and Transfer students will receive an email in their Kalamazoo College email from the Registrar's Office the first week of July with their registration start time; your assigned time will continue until 4 p.m. the following day.
Students plan for and register for courses on Student Planning, available via the Hornet HQ on the Hornet Hive. You can find Hornet HQ under resources on the left side of the Hornet Hive home page. We recommend accessing this system on a desktop or laptop computer. Student Planning is a robust system that provides you with many tools to help you along the way to degree completion. Most of those tools will not be utilized prior to being on campus. If you're interested in learning more about the various Student Planning tools you can do so by watching this video.
Placement Scores
The first step to get ready for Fall registration is taking your placement exams. If you have not already done so visit the Placement exams page.
Placement exams are required and due by June 15th. If you have yet to complete them, you must do so as soon as possible.
Results of placement exams do not automatically upload to our database when you complete the exam. They must be manually inputted by our office. For exams completed by June 15, results are input in July prior to registration.
The Test Summary page will include the results of any test scores you included in your admissions packet, any AP or IB credits the College has received, and the results of your placement tests. The placement test score is the course you have placed into. AP and IB scores need to be sent to the College directly from College Board. It is the student's responsibility to send these scores.
Need help interpreting your scores?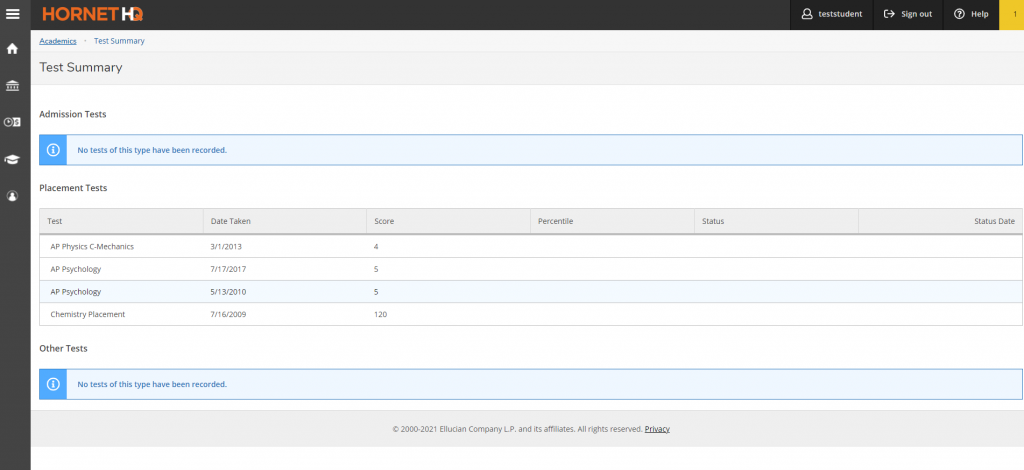 Emergency Contact Hold
In order to register for Fall classes, you need to have cleared your emergency contact hold. You can update this information by going to User Options > Emergency Information.
Students must update their emergency contact information every 90 days on the Hornet HQ.

You have the option to add new information, edit current information or sign off on existing information.
Once you submit the information, your hold will clear automatically.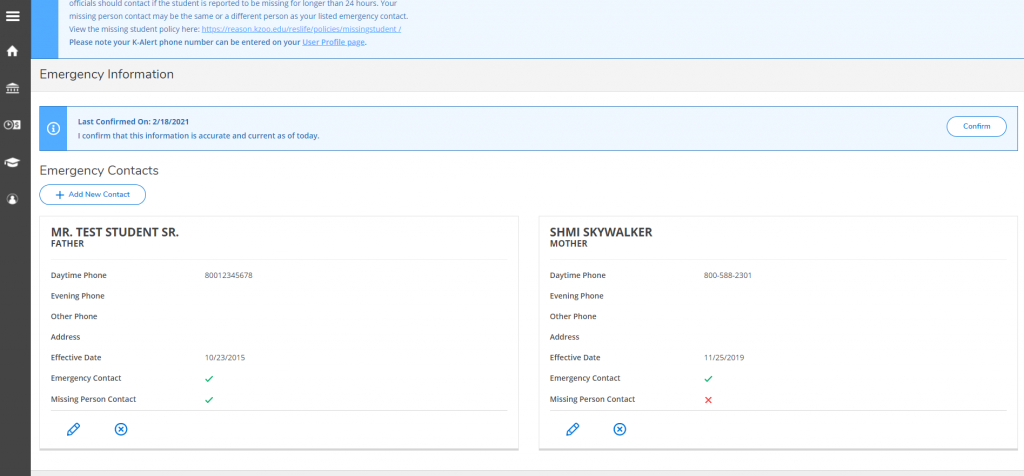 Searching for Classes
Students should plan out their schedule BEFORE their registration time opens. Students should identify at least 8 First-Year Seminars that are of particular interest to them and put all 8 on their registration plan. When you register during your appointment time during July, you will choose one of them, but the others will be handy if your first choice is full/at capacity before you register. You should do the same thing for a popular class with multiple sections, such as CHEM-110, BIOL-112 or 123, ECON-101, or PSYC-101. You should put at least 10 courses on your registration plan, in addition to the 8 First-Year Seminars.
Students have to register for one First-Year Seminar as well as two 1.0-1.2 full unit courses. You want to register for 3.0-3.2 units. However, you cannot exceed 3.9 units.
To choose classes select the Fall term and the First-Year Friendly course type. This will give you a list of all classes being taught in the Fall that are considered First-Year Friendly (they have no pre-requisites and the content is appropriate for First-Year students). You can also add a department in the courses field if you are particularly interested in a specific area of study. All First-Year Seminars are found in the Shared Passages Seminars (SEMN) department. You can also choose the First-Year Seminar course type to search for these.
Note: Make sure to filter by Fall term. If you do not- you will see all of the courses the College offers- not just the sections being offered in the Fall!
Note: You are not limited to taking only First-Year Friendly courses. If you have experience in a particular area of study and would like to take a course outside of those considered First-Year Friendly, you may do so.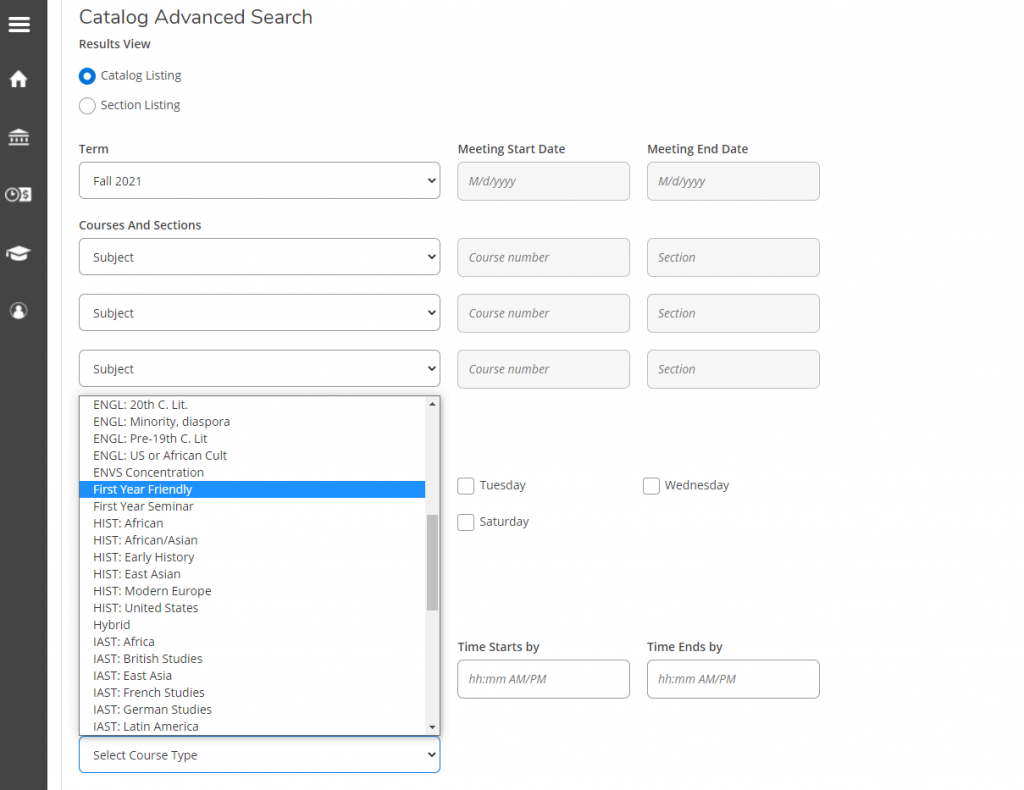 Registering For Classes
You will receive an email the first week of July with your registration period. Registration times are staggered starting at 5:00 pm EST and going all the way until 10:00 pm EST. Your registration time ends at 4:00 pm EST the next day.
The registration button will be grayed out until your time opens. Once your time opens, the button will change to blue. After your have successfully registered for the section, the button will change to green (registered but not started). This is how you will know you have successfully registered for the section.
Please be aware you need to add the section to your plan, not just the course. The course will be PSYC-101, the section will be PSYC-101-01. This is a very common mistake. You will also want to make sure you have the correct section on your plan, Fall 2021 vs Winter 2022 or Spring 2022.
Need more help picking classes? Please check out this webpage.
Frequently Asked Questions:
How many classes should I register for?
3- 3.4 units is ideal. This will be 3 academic units and a PE or Music Ensemble class and maybe a class with a lab. You can register for up to 3.9 units.
Do I need to meet with an advisor before registering?
No, you will not meet with your advisor until orientation. Before you register, please make sure to thoroughly read these guidelines and advice.
When is my registration time?
Our office will email your Kalamazoo College email address with a registration start time. Your registration time will end at 4:00 pm EST next day.
Can I make changes to my schedule?
Your registration time (on either July 13 or 14) ends the next day at 4:00 pm EST. There will also be an open registration time window from July 15-19. More information, including specific times, will be posted on the Incoming Students Registration Process page. You will also be able to make changes to your schedule in August and again after meeting with your advisor in September. Please note, however, that First-Year Seminar registrations are final after the registration period in July.
I cannot register for classes- what do I do?
The first step is to check your registration time. If your registration time has not started or has ended, you will not be able to register.
The second step is to check if your emergency contact hold- you need to update your emergency contact information every 90 days.
The third step is to check if you have any other holds on your account. Check the top right corner to find any holds.
The fourth step is to check the class itself: is the class full, does it have a restriction or time conflict? Make sure you have added the section, not just the course to your plan.
Please reach out to regist@kzoo.edu if you still have any issues or questions.